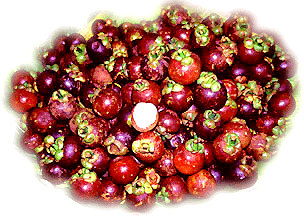 Mangosteen (Garcinia Mangostana L.)
The Mangosteen is a fruit that is unique to South-East Asia it is often referred to as the queen of tropical fruits, and thought to have originated in Malaysia. One of the most delicately flavored fruits that also looks attractive and exotic in appearance, the fruit is extremely hard to grow and it often takes 8-15 years for a tree to bear fruits. Its skin is thin with a waxed bright red or purplish color over a white creamy flesh underneath. Its taste is compared to a cross between a peach and grape.
The mangosteen derives its name in both English and Thai from the Malay manggusta. The trees reach a height of 20 to 40 feet tall, but take six to eight years before bearing their first crop.
When sliced at the through the center, the mangosteen yields white segments of flesh. These segments taste sweet and sour and have a slight acid after-taste similar to grapes or strawberries
Mangosteen are eaten raw as dessert on a bed of crushed ice. They are used as for tarts, added to fruit salads, made into soufflés, added to fish curries, and made into purred drink
Selecting and handling Select large firm fruit that yield slightly to the touch. Avoid smaller fruit as their yield is minimal.
Season may to August or September
[ ID Chart ] [ Acerola ] [ Agave ] [ Avocado ] [ Babaco ] [ Banana ] [ Cacao:Chocolate ] [ Calamondin ] [ Carambola ] [ Carob ] [ Cashew Apple ] [ Cherimoya ] [ Coconut ] [ Dates ] [ Durian ] [ Fig ] [ Guavas ] [ Jackfruit ] [ Kiwi ] [ Loquat ] [ Lychee ] [ Mamey ] [ Mangba ] [ Mango ] [ Mangosteen ] [ Olive ] [ Papaya ] [ Passionfruit ] [ Pineapple ] [ Pitanga ] [ Pomegranate ] [ Pomelo ] [ Prickly Pear ] [ Quince ] [ Rambutan ] [ Sapodilla ] [ Sweet Tamarind ] [ Tamarillo ] [ Ugli Fruit ] [ Umbu ] [ Water Chestnuts ] [ Waterapple ] [ White Sapote ] [ Tropical Fruit Seasons ]