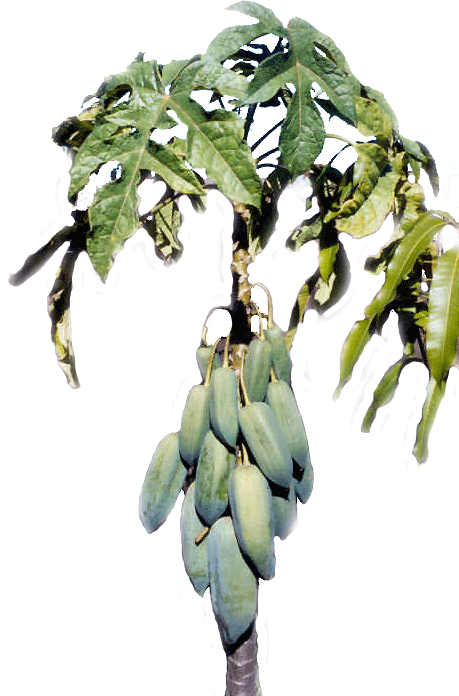 Babaco
Carica pentagona
Babaco is an oblong fruit, native to the Ecuadorian highlands, roughly the same shape as its relative the Papaya, with a length of about ten inches. The flesh of the fruit is pale yellow to peach colored, while the covering or skin is yellow-green when ripe and is edible. It is said that the taste is similar to a cross between a honeydew and strawberry.
The fruit is a spontaneous cross between the mountain papaya and the chamburo of Ecuador. It was first discovered by European botanists in the 1920s and was introduced to New Zealand in 1973 where farmers produce most of the available commercial supply today. The babaco is also grown in the Channel Islands for the European markets.
The flavor is light, acid, & slightly effervescent, hence it's other name 'champagne fruit'.
The babaco pairs well with meat or fish, berries, fresh figs and is sometimes substituted for grapefruit for breakfast. It is presently being cultivated in New Zealand and California.
[ ID Chart ] [ Acerola ] [ Agave ] [ Avocado ] [ Babaco ] [ Banana ] [ Cacao:Chocolate ] [ Calamondin ] [ Carambola ] [ Carob ] [ Cashew Apple ] [ Cherimoya ] [ Coconut ] [ Dates ] [ Durian ] [ Fig ] [ Guavas ] [ Jackfruit ] [ Kiwi ] [ Loquat ] [ Lychee ] [ Mamey ] [ Mangba ] [ Mango ] [ Mangosteen ] [ Olive ] [ Papaya ] [ Passionfruit ] [ Pineapple ] [ Pitanga ] [ Pomegranate ] [ Pomelo ] [ Prickly Pear ] [ Quince ] [ Rambutan ] [ Sapodilla ] [ Sweet Tamarind ] [ Tamarillo ] [ Ugli Fruit ] [ Umbu ] [ Water Chestnuts ] [ Waterapple ] [ White Sapote ] [ Tropical Fruit Seasons ]