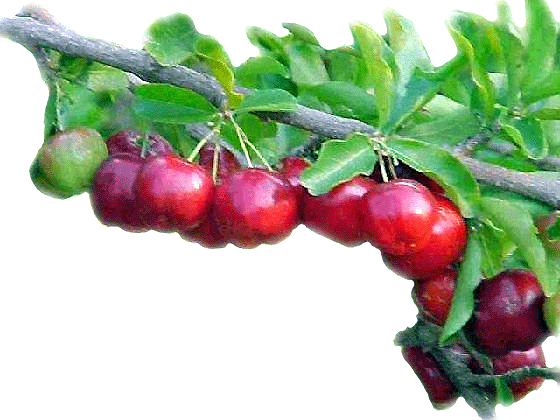 Acerola
Malphigia glabra
Surinam Cherry
Acerola resembles a cherry, grows on a thick bush that is often used for hedges in tropical and sub tropical climates. Native to the Caribbean, it is often seen in southern Florida as an ornamental shrub.
It has recently been discovered that the acerola is the richest of all fruits in Vitamin C, containing as much as 4000 mg per 100 g of fruit. This discovery has spurred the production of this fruit for medicinal and pharmaceutical purposes.
The acerola, is too sour to be eaten raw, but gives good flavor to jams, jellies and preserves. It is made into a popular juice drink in Brazil.
[ ID Chart ] [ Acerola ] [ Agave ] [ Avocado ] [ Babaco ] [ Banana ] [ Cacao:Chocolate ] [ Calamondin ] [ Carambola ] [ Carob ] [ Cashew Apple ] [ Cherimoya ] [ Coconut ] [ Dates ] [ Durian ] [ Fig ] [ Guavas ] [ Jackfruit ] [ Kiwi ] [ Loquat ] [ Lychee ] [ Mamey ] [ Mangba ] [ Mango ] [ Mangosteen ] [ Olive ] [ Papaya ] [ Passionfruit ] [ Pineapple ] [ Pitanga ] [ Pomegranate ] [ Pomelo ] [ Prickly Pear ] [ Quince ] [ Rambutan ] [ Sapodilla ] [ Sweet Tamarind ] [ Tamarillo ] [ Ugli Fruit ] [ Umbu ] [ Water Chestnuts ] [ Waterapple ] [ White Sapote ] [ Tropical Fruit Seasons ]