Eggplant, Aubergine (Great Britain), Apple of Love, Brinjal (Hindi), Garden Egg (Africa), Guinea Squash, Gully Bean, Jew's Apple, Pea Aubergine, Susumber Solanum melongena
History A fruit and pod vegetable. Also known as Aubergine. Native of Asia, member of the squash family the eggplant didn't come to Italy until the 15th century an to England until the 17th century. Once introduced it was assimilated into all the cuisines and became very popular.
Select Dark, rich purple color, firm, unblemished and smooth. Should feel heavy in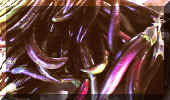 Japanese Eggplant
relation to its size. Store in a cool place, but if in a dry room store in plastic bag. Use before , eggplant wrinkles. Peak of season is August and September .
Serve Hot, as a vegetable with meat or poultry, or as a separate vegetable course.
Cold, as an appetizer.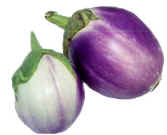 Rosa Bianco Eggplant
Eggplant is also stuffed and used in casseroles, and is prepared Italian style as a main dish.
Makes excellent spaghetti sauce. .
Complimentary Flavors and Condiments Oregano, lamb and mutton, mushrooms, tomatoes, zucchini, rice, onions, summer savory, Creole sauce, peppers, bread crumbs, mozzarella cheese.
Nutrition: 1 cup serving = 40 calories
---