Cucumber The one of the oldest vegetables known to man, cucumbers are originally from southern Asia. A fruit and pod vegetable. The fruit of a creeping vine; related to the squash and pumpkin.
Select Firm, well-shaped, bright green cucumbers. Store in vegetable compartment for no more than 5 days. Peak of season in June and July.
Serve Hot, as a vegetable with meat, poultry and fish.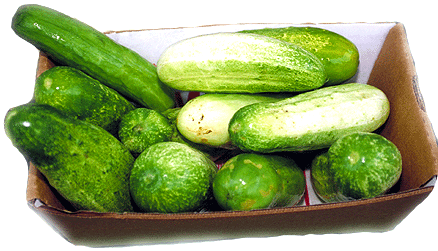 Cold, raw as a salad or salad ingredient; pickled whole cucumbers, as a relish or appetizer. Cucumbers are also used for soups, in mousses and garnishes
Complimentary Condiments and Flavors Sour cream, chives, fennel, butter, basil, mint, dill, tomatoes and onion, fish, cheese for appetizers.
Nutrition 5 thick sticks = 5 calories
---