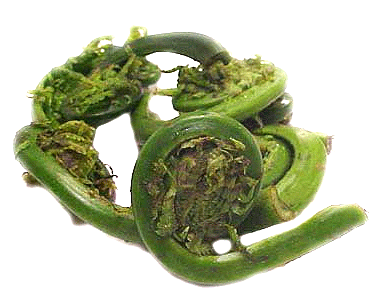 Fiddlehead Fern, Ostrich Fern
Matteuccia struthiopteris
The only fern eaten as a delicacy it grows on the eastern seaboard of the United States and Canada, especially in New Brunswick and Vermont.
A leaf and bud vegetable. The fiddlehead is the tightly-curled frond of the Ostrich Fern, it grows in moist places like the river banks and is harvested in late May. As soon as the fern begins to open it becomes toxic and cannot be eaten.
The fern stem has the flavor of asparagus and artichoke. It may be gathered wild or can be found frozen in specialty food stores. Fresh fiddleheads can be eaten raw in a salad or cooked like spinach.
---