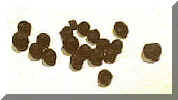 Juniper Berries
Origin Albania
Part Used Berries
From and evergreen shrub or tree this spice has popular use in game, ragout, and marinates. The berries are about the size of of a small pea and are purplish-black on the tree but become very dark when dried.
A few juniper berries will reduce the wild flavor of these meats and will add the pleasant tartness long associated with Germanic dishes, such as sauerbraten, stuffed goose and beef stews.
The main use of juniper berries is as a flavoring for gin.
Available whole berries