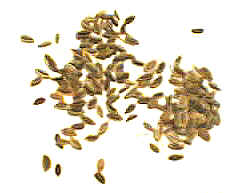 Dill Seed Anethum graveolens

Origin India, Mexico

Part Used Seed

A small dark seed of the dill plant. It is brown, broadly oval in outline, and rounded at both ends.

Part of the Umbelliferae family along with anise, caraway, coriander, cumin and fennel.

Commercially grown in India, Russia Scandinavia, Turkey and California. Most of the imported caraway seeds come from India.

The flavor is clean, aromatic, reminiscent of caraway.