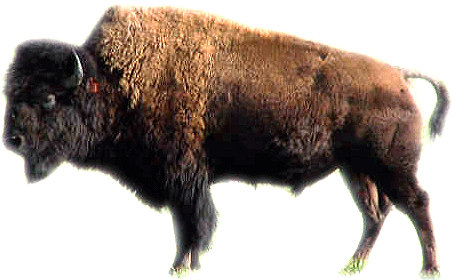 Often called buffalo the American Bison is experiencing a come back in North America. Most people are not aware that there are two types of Bison in North America -- the "Plains Buffalo", which is what we see in the movies and what our American Indians subsisted on -- and the "Woods Buffalo", which come from northern Canada, and are almost twice the size of the Plains Buffalo. The primary appeal is the low fat levels and rich flavor. After being hunted to near extinction in the 19th century their numbers have increased by 20 percent per year for the past 15 years.
Cuts of Bison are named the same as beef and the flavor is compared to well aged beef even though the Bison has a sweeter taste and cleaner finish. Bison contain less fat and cholesterol than chicken, and they truly are "heart healthy" meats.
From a seven hundred pound animal, you will have approximately 250 to 300 pounds of meat in your freezer, depending upon how it is cut and wrapped.
Bison should be cooked to medium rare to avoid dryness. Thicker cuts can be charbroiled while thinner cuts sautéed or pan fried.
6 ounce portion chart
| | | | | |
| --- | --- | --- | --- | --- |
| | Buffalo Tenderloin | Beef Tenderloin | Chicken Breast | Turkey (Baked) |
| Calories | 245 | 358 | 280 | 250 |
| Fat (gm) | 4 | 16 | 6 | 6 |
| Cholesterol (mg) | 140 | 144 | 146 | 118 |
| Protein (gm) | 43 | 39 | 52 | 42 |

[FoodCollege] [PorkCollege] [FoodUniversity] [ProduceCollege] [SeafoodCollege] [PoultryCollege] [DairyCollege] [PantryIngredients]