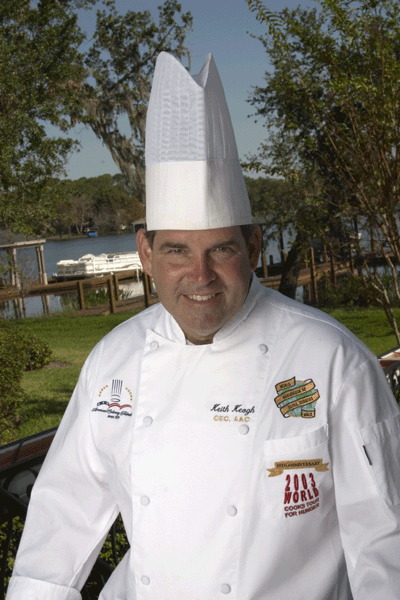 Keith Keogh's extensive background encompasses all aspects of leading and developing culinary-related businesses. He has managed multi-million dollar restaurant operations, created the vision and implementation plans for a Fortune 500 restaurant chain and created several successful entrepreneurial ventures.
He began his career with Disney World in 1971, after graduating from the Disney School of Culinary Arts. Keogh held Executive Chef positions throughout the Disney Resort. He was the opening chef in charge of EPCOT's World Showcase and was EPCOT Center's executive chef from 1984 to 1993. Keogh was then promoted to executive chef of research and development for Disney World's Parks Food Division, responsible for $250 million in food sales and 200 food outlets.
In 1995, Keogh was named vice president of The California Culinary Academy in San Francisco, and advanced to become the Academy's president and chief executive officer in 1997. During his tenure there he increased revenues 60 percent, expanded the school's market share and increased its brand awareness.
Keith left the Academy in 2000 to start his own Internet-based culinary training company, Total Food Network, Inc., which provides distance training on food purchasing, preparation and service.
Keith just completed a two year assignment as Senior Vice President of Culinary and Beverage Excellence, where his responsibilities included creating and implementing Red Lobster's 5 year Menu Vision for food and beverage programs, training of new products to field, and menu adjustments based on preference or economic changes of menu items.
A certified executive chef with a HRN Doctorate from Johnson and Wales University, Keogh is a past president of the World Association of Cooks Societies and of the American Culinary Federation. He was also team manager of Culinary Team USA, leading the U.S. Culinary Olympic Team to 21 international gold medals, three all around world championships and personally has won two national championships.